Turn That Frown Upside Down!
Published on November 14, 2007 by Dr. Rai (drrai.net)
Do you always seem to have a frown or grimace on your face? Are you sick of hearing "Are you upset?" or "What's wrong?" For many of us, the signs of aging are heralded by unwanted lines and furrows that make us look angry or sad.
Nasty facial wrinkles can turn up all over your face. They may start with frown lines that appear between your eyebrows. Next, you may develop a droop at the corners of the mouth that give you the disapproving look of your grandmother. Despite your best efforts to pursue advice from the latest self-help books and relax to the most tranquil of new age music, you still wear that unpleasant expression on your face.
The remedy for this problem of yours just may be Botox. Botox injections are the most popular non-surgical cosmetic procedure performed in the United States today. It works on the dynamic wrinkles that are formed from muscle contractions such as frown lines, crow's feet, forehead creases, and lip lines.
If you would like to have Botox injections or just learn more about them and what they can do for you, please contact Dr. Vasdev Rai at the Cosmetic Surgical Center in Dallas, Texas today to schedule your initial consultation.
Dr. Vasdev Rai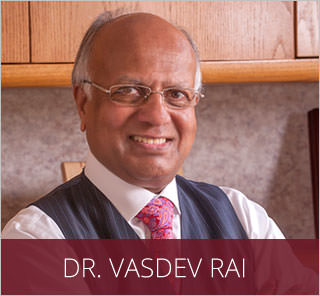 Dr. Vasdev Rai has performed more than 25,000 cosmetic surgeries over his more than 30 years in practice as a Dallas plastic surgeon. He is a board-certified plastic surgeon who was first certified by the American Board of Plastic Surgery in 1983. Learn More...
Dr. Surjit Rai
Dr. Surjit Rai was born and raised in Plano, Texas. Being the son of a plastic surgeon, Dr. Rai had the unique opportunity to see first-hand the impact a plastic surgeon can have. He knew at a young age that he would dedicate his life and academic career towards the goal of becoming a plastic surgeon. Learn More...