A Mommy Makeover Can Bring Back Your Pre-Pregnancy Body
Published on March 19, 2019 by Dr. Rai (drrai.net)
While being pregnant and giving birth to a child is a magical experience for many women, what comes after isn't always so pleasant. Giving birth to a child can drastically transform your entire body. For instance, you may lose the shape and firmness of your breasts and develop excess saggy skin and stubborn in various parts of your body, especially around the mid-region.
Many women who experience these bodily changes lose their confidence and start to feel uncomfortable in their own skin. It can be difficult to look in the mirror and see a totally different body than what you're used to.
To help solve these problems, some women workout and take on a new diet plan, but these alone don't always result in the changes they desire. Because of this, a great deal of women seek out the help of plastic surgery. The most popular procedure for new moms is known as the mommy makeover surgery.
What Is A Mommy Makeover?
A mommy makeover is a term that is commonly used to refer to a combination of several plastic surgery techniques, all of which address and improve the changes that occur in a woman's body after they have gone through pregnancy. Today, a mommy makeover is one of the most sought-after plastic surgery procedures in the world.
What makes a mommy makeover so effective is that there is no single standard procedure followed by the surgeon. Each makeover depends on the individual patient and which parts of the body she would like addressed. In other words, each mommy makeover is customized to suit the unique needs of each patient.
What Procedures Are Involved In A Mommy Makeover?
While a mommy makeover is custom-tailored for each individual, there are certain plastic surgery procedures which most patients usually opt for. These procedures work to improve the most commonly affected parts of the body after pregnancy.
Below, we take a look at the procedures that are most commonly included in a mommy makeover:
Breast Augmentation And Breast Lift
Breast augmentation, which is a surgery to enlarge the breasts, and breast lift, a surgery to enhance the shape and position of the breasts, are procedures many women want to have included in their mommy makeover surgery. This is because the breasts go through major physical changes, including loss of shape and firmness, resulting in drooping, sagging breasts.
Abdominoplasty/Tummy Tuck
The abdomen is another body part that is most affected during and after pregnancy. The abdominal muscles tend to be stretched and separated, and fluctuations between weight gain and loss leads to undesirable changes. A tummy tuck helps achieve a firmer, flatter, and more toned appearance on your abdomen by removing excess skin and fat.
Buttocks Lift
Buttocks lift, or simply, butt lift is where the shape as well as the size of the patient's butt are enhanced. The most common procedure, known as Brazilian Butt Lift, involves transferring fat from other areas of the body like the thighs to the buttocks.
Liposuction
Liposuction is a procedure where fat is broken down and removed or sucked from the body. In most cases, the thighs, back, neck and chin area, arms, buttocks or abdomen are subject to liposuction.
Contact The Cosmetic Surgical Center in Dallas
At the Cosmetic Surgical Center, we understand how important it is to look and feel your absolute best. If you're interested in learning more about the mommy makeover surgery, contact our office to schedule your appointment today. Dr. Rai is the surgeon you can trust for your beautiful new look.
These are Before and after photos of patient, who chose Mommy Makeover to restore her body to its pre-pregnancy state.
She is 5 ft 6 inches tall and weighs 146 lbs. She was frustrated by the fact that intensive work outs and abdominal crunches were ineffective in restoring her abdominal tone and getting rid of her skin excess. Since pregnancy permanently stretches abdominal muscles and causes an abdominal bulge, tummy exercises are unable to tighten the abdominal wall. Excess abdominal skin and stretch marks do not go away. This requires a Tummy Tuck. During that operation muscles are tightened, and excess skin is removed. She also had a liposuction to define and narrow her waistline.
She had suffered from loss of breast fullness. Breasts had developed sagging from initial engorgement and subsequent deflation after her breast feeding. Mastopexy was done to tighten her breasts and lift them. Nipple and areola were moved to a higher position on her breasts. Breast fullness and size was restored by using a 350-cc sized silicone gel implant. These photos are taken at 4 months after surgery. Her scars will continue to fade and blend over next 12-16 months.
Dr. Vasdev Rai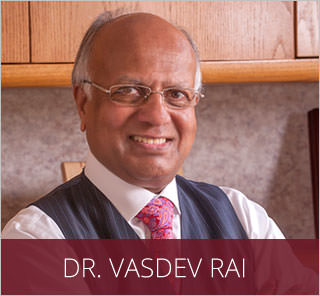 Dr. Vasdev Rai has performed more than 25,000 cosmetic surgeries over his more than 30 years in practice as a Dallas plastic surgeon. He is a board-certified plastic surgeon who was first certified by the American Board of Plastic Surgery in 1983. Learn More...
Dr. Surjit Rai
Dr. Surjit Rai was born and raised in Plano, Texas. Being the son of a plastic surgeon, Dr. Rai had the unique opportunity to see first-hand the impact a plastic surgeon can have. He knew at a young age that he would dedicate his life and academic career towards the goal of becoming a plastic surgeon. Learn More...