The UAL Technique Can Remove Excess Fat Efficiently
Published on June 22, 2017 by Dr. Rai (drrai.net)
Ultrasound-Assisted Liposuction, also known as UAL, can help contour the body to give it a slimmer and more balanced appearance. If diets and exercise routines aren't working for you, this method is an excellent choice to help remove stubborn fatty deposits in various areas of the body, such as your abdomen or hips.
Sometimes, we cannot help having problems such as a paunchy stomach – they can arise out of complications in everyday life. If you find yourself generally unhappy with your body and want those nagging fatty deposits to go away, then the UAL technique may be a good solution for you.
What Is the UAL Technique?

Ultrasound-Assisted Liposuction is a process where cutting-edge technology works to directly target subcutaneous fat and remove it from the body. This involves using a specific cannula that provides ultrasound energy.
The UAL technique involves the use of tumescent fluid injected into the treatment areas. This fluid serves to numb the region, as it contains lidocaine, a local anesthetic. It also contains epinephrine, which causes the capillaries to constrict. This lessens blood loss during the procedure and makes recovery time much shorter.
After the cannula is inserted into the target area where there is excess fat, the ultrasound energy liquefies the fat cells in the region. The liquefied fat is then suctioned out of the body.
By the end of the treatment, because of the ultrasound energy, you'll have smoother skin as well. The ultrasound energy stimulates production of collagen and elastin proteins in the tissues of the region, making the skin healthier and tighter.
The Recovery Process

Recovery after Ultrasound-Assisted Liposuction does not take very long. Patients often find that they are able to resume their normal routine in a few days to a few weeks, depending on factors such as how much fat was removed. Taking some time off of work will likely be necessary in order to ensure a comfortable and speedy recovery.
You may find yourself sore for a few days after the Ultrasound-Assisted Liposuction treatment, and this is normal. You may be asked to wear a special compression garment for a time after the procedure. This garment is used to make sure that the skin adheres well to the new curves of the recontoured area. It also helps to ameliorate any swelling and bruising.
Get In Touch to Set Up an Appointment

If you're interested in Ultrasound-Assisted Liposuction, you need to keep in mind that you have to be extremely careful in choosing a doctor. It is imperative that you select someone who has a successful track record with UAL treatments. Not only does it ensure that the procedure is in safe hands, it also ensures that you will get the recontouring that you desire.
By consulting with your doctor about what exactly you are looking for, you can properly customize the procedure to get exactly what you want. Contact us and arrange a helpful UAL consultation with experienced surgeon Dr. Rai today to get started with the body-contouring process.
Dr. Vasdev Rai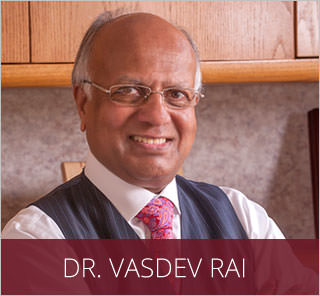 Dr. Vasdev Rai has performed more than 25,000 cosmetic surgeries over his more than 30 years in practice as a Dallas plastic surgeon. He is a board-certified plastic surgeon who was first certified by the American Board of Plastic Surgery in 1983. Learn More...
Dr. Surjit Rai
Dr. Surjit Rai was born and raised in Plano, Texas. Being the son of a plastic surgeon, Dr. Rai had the unique opportunity to see first-hand the impact a plastic surgeon can have. He knew at a young age that he would dedicate his life and academic career towards the goal of becoming a plastic surgeon. Learn More...