CoolSculpting: Its Approved, but Is It Effective?
Published on November 15, 2010 by Dr. Rai (drrai.net)
In September 2010, the US Food and Drug Administration approved the CoolSculpting device (manufactured by Zeltiq) for the nonsurgical reduction of fat. Although the FDA has not approved labeling for the device yet, its manufacturers are advertising that the FDA approved claims that it reduces fat by up to 20% in treated areas. They also say that the treatment can be repeated, creating cumulative fat losses of up to 40% in treated areas.
There is a high demand for nonsurgical fat removal. Everybody would love to take a pill, get a shot, and have their areas of unwanted fat disappear quickly and effortlessly, but unfortunately it doesn't generally work that way. With CoolSculpting, there are a number of limitations that are worth noting:
In order to work, the machine must be able to pull the fat deposit between its cooling panels.
It takes several months before the full effects of fat death are evident, and if you don't get results you like, the treatment has to be repeated
CoolSculpting does not stimulate skin retraction, so people who lose fat are often left with excess skin
The CoolSculpting machine works mechanically, without the guidance of a plastic surgeon, so the results may not be as artistic as those achieved by liposuction
The long-term effects of the treatment are unknown
Ultimately, the best way to learn which procedure gives better results is to look at before and after pictures from both procedures.
To learn more about body contouring procedures and which ones are best for targeting your unsightly fat deposits, please contact Dr. Vasdev Rai at the Cosmetic Surgical Center in Dallas, Texas.
Dr. Vasdev Rai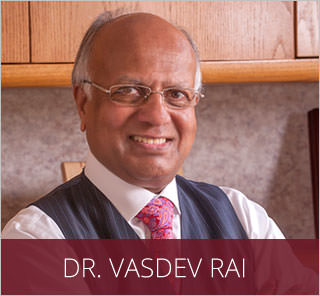 Dr. Vasdev Rai has performed more than 25,000 cosmetic surgeries over his more than 30 years in practice as a Dallas plastic surgeon. He is a board-certified plastic surgeon who was first certified by the American Board of Plastic Surgery in 1983. Learn More...
Dr. Surjit Rai
Dr. Surjit Rai was born and raised in Plano, Texas. Being the son of a plastic surgeon, Dr. Rai had the unique opportunity to see first-hand the impact a plastic surgeon can have. He knew at a young age that he would dedicate his life and academic career towards the goal of becoming a plastic surgeon. Learn More...