Cryolipolysis™: A Future Alternative to Liposuction?
Published on January 26, 2010 by Dr. Rai (drrai.net)
A company called Zeltiq™ Aesthetics was founded in 2005 to develop non-invasive ways of removing fat from the body. Zeltiq is based on California. They have patented a method called Cryolipolysis™ that uses controlled cooling to cause the death of targeted fat cells. They are marketing it as a non-invasive alternative to Liposuction, requiring no incisions, stitches, or anesthetic.
According to a news report from yesterday, Cryolipolysis was conceived when someone noticed that children who suck on popsicles a lot develop cheek dimples. It was thought that fatty tissue was lost from the cheeks because of the cold popsicles being in contact with the cheeks so much. Zeltiq's own press release credits two Massachusetts dermatologists and a Harvard-based research team.
How Cryolipolysis Works
A suction cup is used to take hold of an area of fat. It somehow cools that area down enough to kill the fat cells but does not harm the skin cells because they are more capable of surviving cold temperatures than are fat cells.
The suction cup is left in place for an hour. During this time, you can read, watch a movie, use a computer, or probably sleep, as you choose. The results are not immediately visible but after about two months you can notice the slimmer contour. From one treatment session, about one centimeter's thickness of fatty tissue can be eliminated.
Not Yet FDA-Approved
At this point, Cryolipolysis is FDA-approved for certain dermatological treatments that require skin cooling, but is not approved for lipolysis. A handful of plastic surgery practices are offering Cryolipolysis however, which suggests that the FDA may be starting to test it for possible approval.
Since the FDA testing phases can last for several years and cost a great deal to the manufacturer, it may be a while before cosmetic surgeons nationwide are offering this procedure.
However, as usually seems to be the case, European countries are already offering it. In September 2009, Zeltiq™ Aesthetics announced that it had received the European CE Mark approval for Cryolipolysis. It was first performed in Hong Kong, where many people go from the Chinese mainland for their cosmetic surgery procedures.
At the Cosmetic Surgical Center, we offer several forms of liposuction, including the minimally-invasive Ultrasonic Liposuction. It can be done on small areas such as the neck and you can see the results in our Before and After Gallery.
If you would like to know more about the ways liposuction can be done, and whether one of them would be best for you, please contact our plastic surgery office today. We serve the Dallas and Fort Worth areas in Texas and will be glad to schedule a free consultation for you with Dr. Rai.
Dr. Vasdev Rai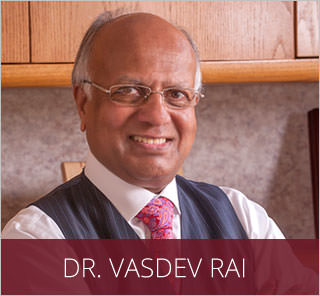 Dr. Vasdev Rai has performed more than 25,000 cosmetic surgeries over his more than 30 years in practice as a Dallas plastic surgeon. He is a board-certified plastic surgeon who was first certified by the American Board of Plastic Surgery in 1983. Learn More...
Dr. Surjit Rai
Dr. Surjit Rai was born and raised in Plano, Texas. Being the son of a plastic surgeon, Dr. Rai had the unique opportunity to see first-hand the impact a plastic surgeon can have. He knew at a young age that he would dedicate his life and academic career towards the goal of becoming a plastic surgeon. Learn More...