How Much Weight Can I Lose with Liposuction?
Published on March 30, 2014 by Dr. Rai (drrai.net)
Liposuction is not a weight loss procedure. It is a body sculpting procedure which removes targeted pockets of fat. You should be at or very near your ideal weight before undergoing the procedure. The only weight you lose during liposuction is the weight of the fat we remove, which is nominal, so there is no significant weight loss associated with the procedure.
What Liposuction Does for Your Look
Liposuction is ideal for patients who have come close to achieving their weight loss goals, but cannot attain the beautiful shape they desire, due to residual pockets of fat which are resistant to diet and exercise.
Fat creates volume in your body. Liposuction reduces body size and creates beautiful contours by reducing volume, not by extracting its weight. It works by reducing the thickness of fat layer that exists between skin and muscle layer of the body.
Liposuction can be used virtually anywhere on the body where you have stubborn pockets of fat, including the abdomen, thighs, buttocks, arms, bra strap area, and chin. Pockets of fat in these areas can undermine the look you are trying to achieve with weight loss. Removing even a small area of fat, such as a double chin, can make all of your hard work more visible and complete.
If you are asking – How much weight can I lose with liposuction? You need to ask Dr. Rai. To learn more about the benefits of liposuction, in the Dallas/Fort Worth area, please contact the Cosmetic Surgical Center to schedule a comprehensive consultation with Dr. Vasdev Rai. You will have the opportunity to find out if liposuction is the right procedure for you or if another procedure would be more appropriate to help you meet your goals.
Dr. Vasdev Rai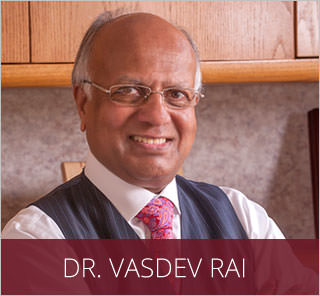 Dr. Vasdev Rai has performed more than 25,000 cosmetic surgeries over his more than 30 years in practice as a Dallas plastic surgeon. He is a board-certified plastic surgeon who was first certified by the American Board of Plastic Surgery in 1983. Learn More...
Dr. Surjit Rai
Dr. Surjit Rai was born and raised in Plano, Texas. Being the son of a plastic surgeon, Dr. Rai had the unique opportunity to see first-hand the impact a plastic surgeon can have. He knew at a young age that he would dedicate his life and academic career towards the goal of becoming a plastic surgeon. Learn More...