"Appearance Medicine" Booming in Australia's Gold Coast
Published on November 2, 2009 by Dr. Rai (drrai.net)
On the south coast of Queensland is a beach called Surfer's Paradise, bordered by big hotels Florida-style. Other beautiful surf beaches are nearby and a little north of this whole area, called the Gold Coast, the Barrier Reef begins.
The Gold Coast has become Australia's "nip and tuck capital", according to news reports. As this is a popular holiday area for tourists as well as Australians, one's beach appearance is felt to be important and cosmetic surgery has flourished.
One woman in particular, one Pamela Noon, has done a lot to promote it. She produced advertisements and videos and set up an agency in Surfer's Paradise where people come who want to have cosmetic surgery in that area. The current recession, which affects Australia and other countries as well as the U.S., has not reduced the demand.
Breast enlargement is at the top of the list and the trend is towards ever larger implant sizes. Also popular is liposuction (a "workout waistline"), and tummy tucks.
Noon herself, now aged 63, has had 150 cosmetic surgery procedures since she was 38. At that time, she was doing a TV program and invited a cosmetic surgeon on. He said, "Why don't you have your eyes done? You'd look better on camera." She did, and since then has had:
Liposuction on six body areas
Two facelifts
Blepharoplasty
A brow lift
Rhinoplasty
28 BOTOX® Cosmetic treatments
She has also had some less-well-known procedures such as a "lip-flip" for fuller lips, a neck lift, and a temporal lift. Like many women, her hair is colored and she has it cut and styled every three weeks. In answer to the question: "Why not grow old gracefully?", she said:
"Most people want to look good, whether in their grooming or make-up or hair-do. Cosmetic surgery is just taking it a little bit further."
Perhaps 150 cosmetic surgeries is taking it quite a bit further, but she is happy with her beach appearance and runs her agency with confidence.
If you would like to know more about the plastic surgery procedures we offer, please contact our Dallas, Texas office for a personal consultation with Dr. Rai.
Dr. Vasdev Rai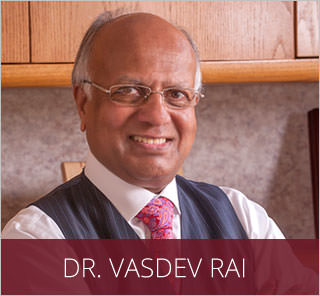 Dr. Vasdev Rai has performed more than 25,000 cosmetic surgeries over his more than 30 years in practice as a Dallas plastic surgeon. He is a board-certified plastic surgeon who was first certified by the American Board of Plastic Surgery in 1983. Learn More...
Dr. Surjit Rai
Dr. Surjit Rai was born and raised in Plano, Texas. Being the son of a plastic surgeon, Dr. Rai had the unique opportunity to see first-hand the impact a plastic surgeon can have. He knew at a young age that he would dedicate his life and academic career towards the goal of becoming a plastic surgeon. Learn More...