Cosmetic Surgery on the Rise in Iraq
Published on June 4, 2010 by Dr. Rai (drrai.net)
Now that calm and peace are spreading in Iraq, Iraqis are turning more to personal improvements including cosmetic surgery. The election results have been confirmed by a manual count with no fraud discovered, and a coalition government is in the making. The U.S. is hoping to start withdrawing troops in August.
The years of conflict and violence have yielded what seems to be a blessing in disguise – Iraqi surgeons have gained a great amount of experience in plastic surgery, having worked on so many people injured by bullets and explosions.
In a Baghdad Clinic
A news report on one Dr. Abbas al-Sihn in a well-to-do part of Baghdad called Mansour, describes his clinic as "besieged by scores of patients eagerly waiting their turn to apply for elective aesthetic procedures which they hope will improve their looks and perhaps their lives".
Dr. Sihn estimates that the demand for plastic surgery has risen about 50 percent. He says:
"I'm currently doing about 50 operations a week, but that number will go up sharply in the summer, when students are on holiday."
His patients are not just women – they are both genders and all ages, even children, although children are there for reconstructive surgery to repair either an injury or a congenital deformity. The adults are mostly there for cosmetic improvement. He does the surgeries in a nearby hospital and does less invasive treatments in his clinic.
The most popular cosmetic procedure is rhinoplasty. Dr. Sihn says:
"The majority of girls think when they are getting surgery for the nose, for the face or for the eyes, that they will become more attractive and get married earlier."
Many of them also want to look like "magazine girls" and movie stars. Dr. Sihn attributes the increased interest in cosmetic surgery to the improved security situation in Iraq. ""When there's peace, there's life – because of peace, they want to live more," he says.
One of the benefits of rhinoplasty is that the same procedure can correct for defects or injuries at the same time as it reshapes the nose for better facial symmetry or balance.
If you would like to know more about facial cosmetic improvements, such as facelifts, eyelid surgery and cheek implants, please contact our office today for a free consultation with Dr. Rai. We serve the areas of Dallas and Fort Worth in Texas and we hope to meet with you soon.
Dr. Vasdev Rai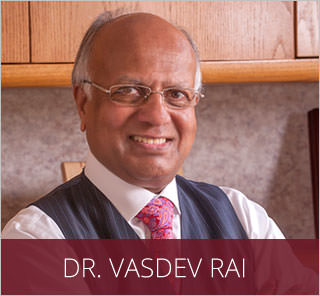 Dr. Vasdev Rai has performed more than 25,000 cosmetic surgeries over his more than 30 years in practice as a Dallas plastic surgeon. He is a board-certified plastic surgeon who was first certified by the American Board of Plastic Surgery in 1983. Learn More...
Dr. Surjit Rai
Dr. Surjit Rai was born and raised in Plano, Texas. Being the son of a plastic surgeon, Dr. Rai had the unique opportunity to see first-hand the impact a plastic surgeon can have. He knew at a young age that he would dedicate his life and academic career towards the goal of becoming a plastic surgeon. Learn More...