How is Pectoral Etching Different from Male Breast Reduction?
Published on January 7, 2014 by Dr. Rai (drrai.net)
Male breast reduction surgery is performed to correct gynecomastia, and has excellent results, but it does not aim to create a sculpted and defined chest. Dallas surgeon Dr. Vasdev Rai uses pectoral etching to produce muscular definition. It can put the final touches on all of your hard work when diet and working out have failed to give you the visual results you seek.
Pectoral Etching in Dallas
Pectoral etching gives your chest a more masculine appearance. It reveals the pectoral muscles that are often hidden by stubborn pockets of fat which do not melt away with diet and exercise. Fortunately, liposuction can gently remove unwanted fat. Advanced liposculpting techniques are used to precisely remove fate from over the pectoral muscles and the axilla, so that the muscles are more visibly defined.
If there is excess glandular tissue, this can be removed as well.
Pectoral etching is an outpatient procedure. You will go home from our Dallas cosmetic surgery office the same day, but you will need to wear a compression garment for 10 to 14 days, to promote healing and speed your recovery. After the first few days you can gradually resume activity and within a few weeks you will be able to get back to your normal workout.
If you live in Dallas or anywhere in Texas and believe that pectoral etching may be right for you, please contact Dr. Vasdev Rai to schedule a comprehensive private consultation. Dr. Rai provides cosmetic surgery procedures to men living in Dallas, Fort Worth, and surrounding areas of Texas.
Dr. Vasdev Rai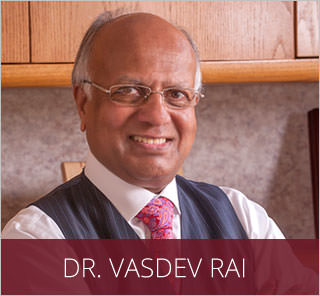 Dr. Vasdev Rai has performed more than 25,000 cosmetic surgeries over his more than 30 years in practice as a Dallas plastic surgeon. He is a board-certified plastic surgeon who was first certified by the American Board of Plastic Surgery in 1983. Learn More...
Dr. Surjit Rai
Dr. Surjit Rai was born and raised in Plano, Texas. Being the son of a plastic surgeon, Dr. Rai had the unique opportunity to see first-hand the impact a plastic surgeon can have. He knew at a young age that he would dedicate his life and academic career towards the goal of becoming a plastic surgeon. Learn More...