The Rise in Non-Specialist Plastic Surgery
Published on February 8, 2012 by Dr. Rai (drrai.net)
A recent New York Times article titled "Ear Doctors Performing Face-Lifts? It happens," addresses the increasing number of doctors providing plastic surgery procedures to their patients, regardless of the fact that the doctors are not specialists in plastic surgery.
Because elective cosmetic procedures are not covered by insurance, doctors can conveniently charge their patients an out-of-pocket cost without the disappointment of a low insurance reimbursement.
So, is there anything wrong with receiving liposuction from an ear, nose and throat doctor? Not necessarily, but the risks of receiving surgery from a non-specialist include:
Unsatisfactory results. Even though a doctor may have surgical experience, satisfactory results are better guaranteed when performed by a doctor experienced in that specific procedure. A knowledgeable and talented ophthalmologist may not have the experience necessary to provide satisfactory breast augmentation results.
Inadequate or unsafe surgical facilities. Surgeries performed outside of an accredited surgical facility may be poorly equipped in the event that an emergency arises. If a complication arises during surgery, proper emergency medical equipment is critical to preventing injury and death.
There are no laws or regulations requiring doctors to practice within the field in which they are trained or board certified.
A surgeon board certified by the American Board of Plastic Surgery has completed training devoted to the specialty of plastic surgery, and has completed rigorous oral and written examinations pertaining to plastic surgery.
For plastic surgery in Dallas, Texas, please contact experienced and board-certified plastic surgeon Dr. Vasdev Rai to schedule a consultation.
Dr. Vasdev Rai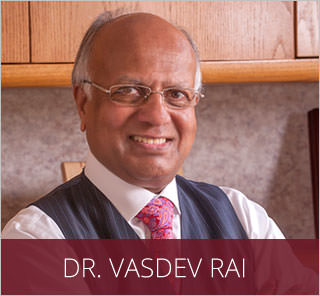 Dr. Vasdev Rai has performed more than 25,000 cosmetic surgeries over his more than 30 years in practice as a Dallas plastic surgeon. He is a board-certified plastic surgeon who was first certified by the American Board of Plastic Surgery in 1983. Learn More...
Dr. Surjit Rai
Dr. Surjit Rai was born and raised in Plano, Texas. Being the son of a plastic surgeon, Dr. Rai had the unique opportunity to see first-hand the impact a plastic surgeon can have. He knew at a young age that he would dedicate his life and academic career towards the goal of becoming a plastic surgeon. Learn More...