What are the Risks Associated with Tummy Tucks
Published on March 3, 2014 by Dr. Rai (drrai.net)
All surgeries carry some risks. However, the risks associated with tummy tucks are minimal and, for healthy patients, the benefits outweigh the risks. Some patients have a higher risk of complications due to preexisting medical conditions. You can minimize your risk of complications by closely following the pre-op and post-op instructions Dallas plastic surgeon Vasdev Rai will give you well in advance of your tummy tuck procedure.
Potential Complications from Tummy Tuck Surgery
Tummy tuck complications are rare when the tummy tuck is performed by a highly skilled and experienced plastic surgeon, such as Dr. Rai, and the patient is a good candidate for surgery. Potential complications include:
Standard risks of anesthesia
Infection
Hematoma (blood accumulation)
Seroma (fluid accumulation)
Unfavorable scarring
Skin discoloration
Asymmetry
Blood clots
Deep vein thrombosis
Numbness
Changes in sensation
Nerve damage
Poor wound healing
Skin loss
Fat necrosis
Ideal Candidates
Good candidates for tummy tucks have minimal risk for complications. Your underlying health, lifestyle, and ability and willingness to follow instructions are the main factors which determine your risk. Ideal candidates possess the following qualities:
Nonsmokers
In good overall health
Realistic expectations
Understand the complications and risks of tummy tuck
Prepare in advance for surgery and recovery period
Will follow all pre-operative and post-operative instructions, without exception
A tummy tuck is a very rewarding procedure with minimal risks in most circumstances. To learn more, and find out if an abdominoplasty is the right procedure for you, please email to schedule a comprehensive consultation with Dallas plastic surgeon Dr. Vasdev Rai.
Dr. Vasdev Rai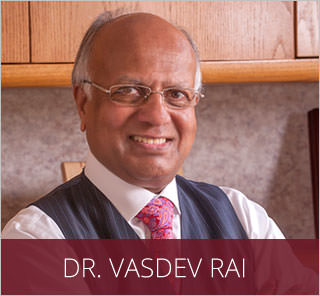 Dr. Vasdev Rai has performed more than 25,000 cosmetic surgeries over his more than 30 years in practice as a Dallas plastic surgeon. He is a board-certified plastic surgeon who was first certified by the American Board of Plastic Surgery in 1983. Learn More...
Dr. Surjit Rai
Dr. Surjit Rai was born and raised in Plano, Texas. Being the son of a plastic surgeon, Dr. Rai had the unique opportunity to see first-hand the impact a plastic surgeon can have. He knew at a young age that he would dedicate his life and academic career towards the goal of becoming a plastic surgeon. Learn More...