Radiesse Gets Validation in Clinical Studies
Published on July 5, 2008 by Dr. Rai (drrai.net)
Radiesse is the first in what might called the composite injectables. In this new variation on the injectable filler treatment, the injection is formulated using two very different components. First, there is a carrier gel and a content of microspheres that last long after the carrier gel is absorbed by the body. As long as the microspheres are in place, according to theory, the body will fill in around them with collagen, leading to long-lasting results. In the case of Radiesse, the carrier gel is methylcellulose, commonly used as a food thickener, and the microspheres are made of calcium hydroxylapatite, a compound commonly used as a bone filler.
Now, the theory of Radiesse and similar composite fillers has been validated by a number of studies published in the June 2008 issue of the Journal of Dermatologic Study. In one study, at least 80 % of 1000 patients were shown to have continued results one year after treatment without retreatment, making the results much longer than nearly any other facial filler available. In addition, it was shown that the mechanism of Radiesse is, as postulated, to stimulate the body to produce collagen around the microspheres.
If you would like to have long-lasting results from your facial filler, Radiesse has always been recommended, and now that recommendation is backed by even more evidence.To learn more about Radiesse and other facial fillers, contact the Cosmetic Surgical Center in Dallas, Texas today for a consultation.
Dr. Vasdev Rai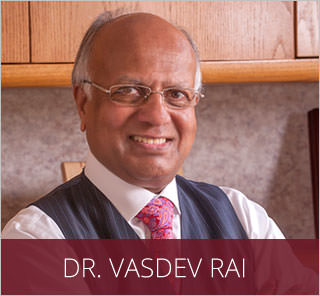 Dr. Vasdev Rai has performed more than 25,000 cosmetic surgeries over his more than 30 years in practice as a Dallas plastic surgeon. He is a board-certified plastic surgeon who was first certified by the American Board of Plastic Surgery in 1983. Learn More...
Dr. Surjit Rai
Dr. Surjit Rai was born and raised in Plano, Texas. Being the son of a plastic surgeon, Dr. Rai had the unique opportunity to see first-hand the impact a plastic surgeon can have. He knew at a young age that he would dedicate his life and academic career towards the goal of becoming a plastic surgeon. Learn More...