Dr. Vasdev Rai is the BEST plastic surgeon
Published on August 25, 2019 by Dr. Rai (drrai.net)
Dr. Vasdev Rai is the BEST plastic surgeon. Look no further. After consulting with other surgeons, I selected him as he gave me confidence that my results would be what I wanted. In my early twenties, I came to him for a rhinoplasty. He explained that I should also proceed with a chin augmentation for a balanced result. Other surgeons gave me options as to how they could do the procedure, and also gave me the suggestion of a chin augmentation. However, I felt they were putting the decision in my hands, and I just didn't know what to do. Dr. Rai told me exactly what needed to be done, why, and how both procedures would result in the best aesthetic result. His confidence gave me confidence, and I was ready to put my facial appearance in his hands. My results are flawless. I have met other plastic surgeons (going to consultations with friends and such) and NO ONE can guess that I have had ANY work done. It is so natural, and I often get compliments on how perfect my nose is (something I never thought I would hear prior to surgery 🙂 ). Many years later I came back to Dr. Rai for a breast augmentation. I knew he would know what would look best without me having to make suggestions, which is what I was looking for in a surgeon. Besides, he is the one that really knows what the outcome will be based on the approach and size. I could not be happier with the result. I certainly was not expecting the size I have, but I wouldn't go any smaller. I have a natural, but full and perfect result. I still can't believe what a great result I have. Dr. Rai has changed my life by giving me full confidence in my appearance. I cannot thank him enough, and I cannot recommend him enough to anyone looking for aesthetic improvement.
Dr. Vasdev Rai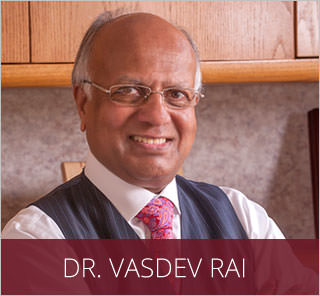 Dr. Vasdev Rai has performed more than 25,000 cosmetic surgeries over his more than 30 years in practice as a Dallas plastic surgeon. He is a board-certified plastic surgeon who was first certified by the American Board of Plastic Surgery in 1983. Learn More...
Dr. Surjit Rai
Dr. Surjit Rai was born and raised in Plano, Texas. Being the son of a plastic surgeon, Dr. Rai had the unique opportunity to see first-hand the impact a plastic surgeon can have. He knew at a young age that he would dedicate his life and academic career towards the goal of becoming a plastic surgeon. Learn More...