Everything has been excellent
Published on November 6, 2015 by Dr. Rai (drrai.net)
Dr. Rai, I feel like I am healing faster than the timeline you gave me. Everything has been excellent. The swelling has gone down a fair amount, I can already feel the bumpiness as you described and when I flex my pectorals I can see them all the way to the sternum. Thank you so much Dr. Rai. I waited twenty years for this and I have waited too long.! I first found your website months ago and researched you as best I could and felt very comfortable with you before even meeting you. You did a great job marketing yourself on your website, and not only that, but you did so honestly; as your bedside manner, and your genuineness with how you handle the provider/patient relationship could be felt not only on your website but also in your office when I met you.
We will be back next spring to visit my parents and we will contact you prior to flying over to set up a time for pictures. Also, if you desire a testimonial or anything of that nature, I'd be glad to help. I've been nothing but pleased.
Thanks again for doing a great job and words cannot express how much of a difference this has already make to me, not only in appearance with how others see me, but in how I see myself. I can't begin to explain how hard this was for me growing up and also as an adult, especially when I was younger, thinner and muscular, but always had the saggy area around each nipple. I noticed early on how people always tried to catch a quick glance downwards when talking with me face to face, or how sometimes people would turn their heads when walking by to get a longer look because it didn't quite look right and just stood out a little bit. This has been something that was emotionally hard for me for years and now it is gone.
Dr. Vasdev Rai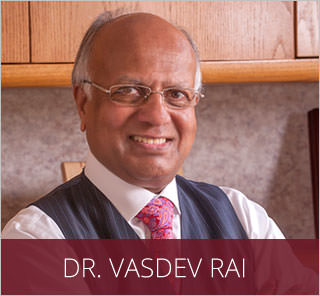 Dr. Vasdev Rai has performed more than 25,000 cosmetic surgeries over his more than 30 years in practice as a Dallas plastic surgeon. He is a board-certified plastic surgeon who was first certified by the American Board of Plastic Surgery in 1983. Learn More...
Dr. Surjit Rai
Dr. Surjit Rai was born and raised in Plano, Texas. Being the son of a plastic surgeon, Dr. Rai had the unique opportunity to see first-hand the impact a plastic surgeon can have. He knew at a young age that he would dedicate his life and academic career towards the goal of becoming a plastic surgeon. Learn More...