I am amazed every time I look in the mirror
Published on November 6, 2015 by Dr. Rai (drrai.net)
WOW! I can't believe it was just a little over a month ago that I first inquired about a tummy tuck and here I sit 49 days later smaller than I have been in years. I am amazed every time I look in the mirror at what an incredible difference there is. It has only been 17 days since my surgery and I feel great! Everyday that goes by I can see more and more of a difference. I just want to thank all of you. You are all truly wonderful people and you have made my experience a very pleasant one. I have been through several surgeries in the past and never have I had such care as I received from everyone at Dr Rai's office. I am now certain this is the very best decision I have ever made and I am so very glad that I choose Dr Rai. I will very strongly recommend him to anyone and everyone I know that is considering any type of cosmetic surgery. Once again I want to say thanks from the bottom of my heart for being such a group of truly gifted and wonderful people.
Dr. Vasdev Rai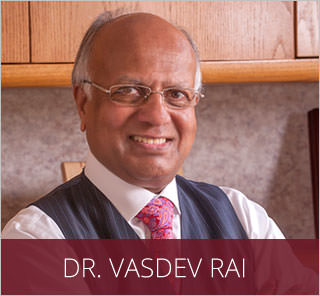 Dr. Vasdev Rai has performed more than 25,000 cosmetic surgeries over his more than 30 years in practice as a Dallas plastic surgeon. He is a board-certified plastic surgeon who was first certified by the American Board of Plastic Surgery in 1983. Learn More...
Dr. Surjit Rai
Dr. Surjit Rai was born and raised in Plano, Texas. Being the son of a plastic surgeon, Dr. Rai had the unique opportunity to see first-hand the impact a plastic surgeon can have. He knew at a young age that he would dedicate his life and academic career towards the goal of becoming a plastic surgeon. Learn More...